Two new unreleased tracks are available in streaming mp3 format at 1sound.com/lovespirals for your listening pleasure. 4 additional songs are also available in streaming and free downloadable mp3 format, including the demo version of "Love Survives," which the band is currently re-recording.
Nothing much exciting has been going on since we got back from Mexico. I'm starting to miss performing! Our current plan is to re-record "Love Survives" in 24 bit format. I guess the song will probably come out a bit different this time, but nothing as drastic as our redo of "Hand in Hand." We've got a lot of other half-formed song ideas that we've been working on the past year. I look forward to having the time to dedicate to diving into the studio for days and weeks on end, fleshing out and perfecting them all. It will be an exciting time. For now, though, I simply dream…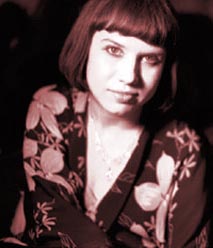 Anji Bee interviewed by Sterben von Todsleben for Reflektionen, February 2003
STERBEN: The gothic subculture seemed to be quite fond of Love Spirals Downwards; have you noticed much backlash from them with your first Lovespirals release? Does it matter what the gothic subculture thinks?
ANJI: Surprising little, actually. Before the album came out, there were a few people on our message board making a tiny squabble, but at least one of those has turned into a hard core fan since seeing us play live and buying the album. And the reviews have been overwhelmingly positive, even from Gothic sources. We didn't really expect the kind of support we've received, but are happy to have it. What's more exciting, however, is when fans of Gothic music express interest in our decidedly not-Gothic songs, many of which are available as mp3s at various sites on the Internet. Ultimately, though, we would prefer to secure a new audience for ourselves, rather than appealing to old fans of Love Spirals Downwards or Projekt Records.
STERBEN: Did you feel that there was something to prove by releasing Windblown Kiss? Was there internal or external pressure to do something removed from the traditional Love Spirals fare?
ANJI: Honestly, we were just having fun as we recorded the songs that became Windblown Kiss. We knew that what we were doing was quite different from what the two of us had done before (which was electronic dance music), but we thought some of what we were doing was fairly similar to things LSD had done before — such as "Dejame" and "Swollen Sea." I wouldn't say that we were trying to prove anything; we were merely trying to produce an album that wouldn't be totally out of Projekt's ballpark, yet was still interesting for us to create.
STERBEN: Having the album out now, and being able to hear all the reviews and comments from fans, do you look at the album and go… "Jeez we should have done this differently"?
ANJI: I guess sometimes I wish we hadn't decided to not include songs like "Sandcastles" or "Love Survives" on the album, because it would have shown that we're still working in electronic styles. Still, there's a sort of Old-Timey mood that suffuses the album with these more organic rock, folk, blues and jazz pieces, and I like that. But, you know, its not like I've heard a single person complain that we didn't do any electronic songs on the album.
STERBEN: Why was the decision made to include some text in languages outside of English on Windblown Kiss? Was it difficult? Could you see creating songs in the future with more language dynamics?
ANJI: Hmm… there's kind of 2 sides to this story, I guess. On the one hand, it just kind of happened, but on the other, I suppose I was conscious of the fact that LSD had been known — rightly or not — as a multi-lingual band. I had written the poem that became "Windblown Kiss" a year or more before, and afterwards thought, "Gee, this could make a good lyric. It seems like something Ryan would work with!" But the first song we recorded in another language was actually "Dejame." Those lyrics began with a quote from Anais Nin's journal, and then blossomed out from there. I was inspired by the Latin flavor of the music to create Spanish lyrics; simple as that. The French part in "I Can't See You" was just a little joke. I thought it would be cheeky to sing the last phrase in French, like some kind of late 50's jazzy lounge singer. Those were the hardest lyrics to write, because I am not at all familiar with French. "Windblown Kiss" was the easiest, because I worked on that with a friend in Germany. I probably will do more stuff in other languages, just because it's kind of fun. I've already done some work in Japanese with my friend Chukimai, for our band Plastic Chair.
STERBEN: How has the playing live experience been so far?
ANJI: Playing live has been a great experience for us. Practicing and performing has given us both the opportunity to hone our respective skills. I learned a lot about my voice in the process, and Ryan has grown much more comfortable with soloing. When he was working as LSD, he didn't play electric guitar live, so this is a totally new thing for him! I think working with effects on stage has been an interesting challenge, as well as figuring out how to switch from rhythm guitar parts to solos and then back again.
STERBEN: Is their a distinct Lovespirals frame of mind? Are you always you, or is their a definite Lovespirals mindset?
ANJI: Ryan's talked in the past about having to put on a "Lovespirals hat" when he goes out as a performer, but I haven't experienced anything like that. I'm always just me, more or less. I prefer to approach the fans as friends, if at all possible. I guess it's a bit odd when you're surrounded by folks asking for autographs and photos, but I don't really act or even feel differently in that situation.
STERBEN: If you could live in any time period, which would it be? What about that period of time draws you there? Do you think you'd still be making music?
ANJI: I've always been fascinated by the "Roaring 20's." I love late 20's fashions, hairdos, art and design, architecture, and even music. I simply adore old syncopated jazz and gutbucket blues tunes! I'd definitely be one of those daring flapper girls who snuck off to black jazz clubs to dance and sing, rather than sticking around with the stuffy white folks who had no sense of rhythm or soul.
STERBEN: What should fans look forward to seeing in the next release from Lovespirals?
ANJI: I honestly don't know what's up for future Lovespirals releases. We have a number of electronic songs in the works, very different from both the Windblown Kiss or Ecstatic EP tunes, so we'll have to see where we go from here.
For the full interview, please see reflektionen.net