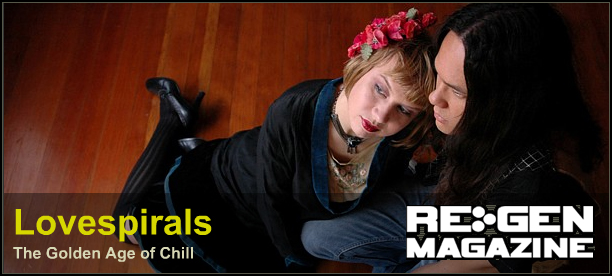 November 11, 2007, ReGen Magazine Assistant Editor, Matthew Johson:
The Golden Age of Chill
For a band so enmeshed in '70s-era recording aesthetics, Lovespirals' Anji Bee and Ryan Lum are undeniably on the cutting edge of modern technology. Early adopters of podcasting technology, the pair are aligned with Adam Curry's PodShow network as well as the nascent podsafe movement. They also recently made their virtual reality debut with a live show in the Second Life online community, and are eager about the Internet's role in the music industry's uncertain new era.
Get them talking about the music itself, though, and it's all about the warm sounds of '70s records. Bee and Lum's newest release, Long Way from Home, largely abandons the house and downtempo electronic currents of previous releases Windblown Kiss and Free and Easy not to mention the ambient drum 'n' bass predilections Lum explored with his previous project, top-selling Projekt act Love Spirals Downwards in favor of a more acoustic approach. If the technology is less overt, however, it's no less an integral part of Lovespirals' music. As Lum and Bee explain to ReGen, it takes a lot of technique to produce an album on ProTools that sounds like it was recorded in the days of Miles Davis and John Coltrane. Lum also tells us about revisiting his early work by remastering new editions of Love Spirals Downwards' first two albums, Idylls and Ardor, and Bee talks about keeping things real in the age of Auto-Tune.
Let's start by talking about your new album, Long Way from Home. The electronic elements are a lot more understated than on Free and Easy. Was there a conscious decision to step away from electronica to focus on more traditional instruments?
Lum: Big time! There's really no electronics, unless you count the Rhodes piano. I think three or four songs have Rhodes, some a lot of Rhodes, some just a little bit. I don't know if that makes it electronica. I just see it as a popular '70s instrument that got re-popularized.
Bee: Bands like Zero 7 and Air have really re-popularized Rhodes, so it's easy to think of Rhodes as being an electronica thing. I'm happy to let it slide; if we're considered 'downtempo' because of the Rhodes, that's fine. We did basically record the same way as Free and Easy; we used ProTools, and the drums are not real drums.
Lum: It may not sound like it, but I'm using all the production techniques I've learned over the years, making Free and Easy, or before that making drum 'n' bass or house or whatever. We're using the same techniques, but we're trying to make more acoustic records with the same gear.
Bee: It's like we're disguising the techniques.
Lum: You can make a drum machine sound all electronic, but we're trying to make it sound as human as possible. In fact, I'm hoping you can't even tell it's not a real guy playing a real drum.
Are there any real drums on the album?
Lum: Not really. We're pretty much using a good sampler with all these multi-sampled hits so you can't really tell. Then we have processing, too. I try to warm it up; I run it through some plug-ins to give it more of a tape feel. We're trying to move toward something like a record that was made in the '70s: real people playing real instruments and writing real songs.
It also seems a little more folk and blues-inspired, less jazzy, with less wah-wah pedal and a lot more slide guitar. What were the musical inspirations for this album? What were you listening to when you were writing and recording this album?
Lum: Probably the stuff we've been listening to even before that, when we were making Free and Easy and Windblown Kiss. We've just been listening to a lot of what I call the classic era of rock 'n' roll, stuff from the early and mid-'70s, like Pink Floyd, Marvin Gaye…
Bee: I guess we've kind of been studying some of the great albums, listening to how they deal with reverb and how they mix things, soaking it up and trying to integrate it.
Lum: Sometimes you listen to some of these records, like you hear Marvin Gaye singing through this beautiful plate reverb, and all the hair on your neck sticks up and you break out into a sweat.
Bee: Or the old Miles Davis records, especially with Coltrane. That reverb is amazing. They actually had a room reverb, where they'd send the signal out into a room and then bring that reverb back in. I don't know how we could set it up like that, but we try to imitate some of those things when we're producing.
Lum: A lot of recording engineers consider the early to mid-'70s the golden era of recording. They can't make records sound as good as that anymore, even though they have all this really high tech gear, so we're trying to go for that. We're trying to make an audiophile kind of record, to really focus on recording, the mic placement, the signal flow, the gear, the pre-amps, stuff like that, to make a really nice-sounding record. A lot of inspiration came from the '70s across the board: the music, the recording techniques, and the production.
So even though you're not doing electronic music, you still get to indulge in your gear-head tendencies?
Bee: Lots of geek stuff! [Laughs.]
Lum: That's how we could pull off the drum situation. We would not have been able to do that in 1973 without having a real drummer, so we take advantage of modern recording techniques. Like ProTools; it can be abused, you can make something sound really crappy in ProTools by compressing it and having all this Auto-Tune, or you can use ProTools like we do, as a tape machine basically (one that you can edit pretty easily).
Bee: And one where the high end doesn't degrade over time.
Lum: You can play it a thousand times and it'll sound the same, unlike a tape machine. We try and use the modern gear for what it's best for, which I think is to make music sound better, not to use Auto-Tune for everything.
Bee: We don't use Auto-Tune. Maybe not every note is perfect, but it's not supposed to be, and when you hear it moving to bring the note mechanically into place, it's really jarring. I think it takes a lot of the emotion out of the music, and that's one of the things we're most interested in expressing through music: the emotion, the state of mind as the song was created. We want to preserve as much of that as we can, which is difficult when every track is dubbed in.
Lum: I have to overdub by necessity. It's something a lot of artists that are trying to make stuff that's like from the '70s, like Air, I've read are struggling with this whole thing. They have modern gear, but they have to try and keep the soul of the music. We try to walk this balance between making it sound good but not overdoing the perfection.
Bee: With my vocals, I'm trying to do more full takes, instead of 'OK, I'll sing this part, then I'll sing this part.' I'm trying to give more of a full performance.
It seems like vibe and mood are such an integral part of what you do. What is the ideal setting for someone to hear your songs?
Lum: The way we used to listen to music before iPods were invented. Not to say iPods are bad, but most people I know listen to iPods on the go, in the car or on the bus or subway. I like to listen to the iPod at home; we have a nice stereo system with some Danish speakers that plug into our iPod, and it sounds nice. That's what I'm saying: a chilled out situation, like we used to do with albums when we were younger.
Bee: Lights off, candles, maybe a little incense or something.
Lum: Pretty much all the music I like is stuff that asks or even demands that you pay attention to it, to take in and appreciate all the nuances. I guess you can listen to our stuff on the subway; it'd probably be kind of cool, to make your own visual soundscape while you travel. When we got the album mastered in Mountain View, we brought it back down, got out of the city, and we were going through Pacheco Pass and said, 'Now is the time. Let's pop the CD in!' We were driving with it, enjoying the beautiful scenery and the music going together.
Bee: When you're on a long road trip out in the middle of nowhere, you can actually focus and let the music flood your consciousness. Our music isn't upbeat party music or anything you'd want to listen to with a group of people. That could be awkward, because the music is really sensitive, and most of it's about love and spirituality, and that's not really a group endeavor.
Lum: Introspection, I think, is the key word.
Bee: In the past we've been accused of making make-out music. I don't know if this album is as much of a make-out album as the other two. [Laughs.]
Lum: We'll see what people say.
Bee: We've actually gotten e-mails saying like 'Thanks for the album; I had a fire in the fireplace, a candle burning, and it was just me and my old lady…' Those are the weirdest e-mails we get. [Laughs.]
Read the rest of the interview on the ReGen Magazine site.