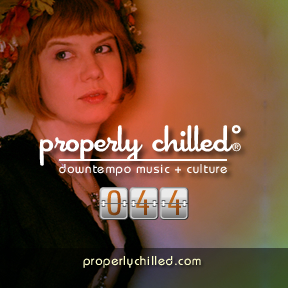 Lovespirals vocalist, Anji Bee, guest hosted a one hour set on the radio show, Properly Chilled, last weekend. The show airs on 101.5 FM WXGR in Portsmouth, New Hampshire, every Saturday from 6-8 pm, and streams live worldwide via http://www.wxgrfm.org. Luckily for you, it is also released as a podcast the following week. You can Check out Properly Chilled Podcast #44 (B): Guest Anji Bee on Mixcloud or check out the full show and view the complete shownotes for Properly Chilled #44 with Guest DJ Anji Bee on Properly Chilled.com.
Included in Anji's set is Lovespirals' brand new track, "Try To Forget," as well as her solo song, "Put Some Music On" (produced by Ryan Lum, of Lovespirals, btw…), along with several other cuts from her new 5 Years of Chillin' compilation. In addition, she featured several recent Lovespirals remixes, including the winner of the "Feel So Good" remix competition held by Sony Acid Planet earlier this year. Also in the mix are 2 brand new Anji Bee collaborations; one with The Grooveblaster, and the other with Karmacoda and Beth Hirsch, as well as her recent collaboration with 7 Day Visa.
Properly Chilled was founded in January 2005. Dedicated to downtempo music and culture, their approach is a widely inclusive one, bringing together the sounds of nu jazz, broken beat, world fusion, dub, trip hop, deep house, jazzy hip hop, ambient electronic, idm, glitch, reggae, acid jazz, afrobeat, cosmic disco, dubstep and pretty much any other laid back child of electronic music.