Its always lovely to get good press, no matter how late or how obscure. California blogger, Terry Majamaki, has included Lovespirals in his Top 10 Music Albums of 2011, alongside Low, Thievery Corporation, Moby, Coldplay, Beastie Boys, and more.
Lovespirals – Future Past (Chillcuts 2010)

While this album was released in 2010, I discovered the album, and the band, this year. As a long time fan of the band Love Spirals Downward, who stopped producing new material in 1998, I had no idea that lead instrumentalist Ryan Lum made a new band with vocalist Anji Bee and released new music under the name Lovespirals. After discovering this I picked up 3 Lovespirals albums spanning the last decade, including; Windblown Kiss (2002), Long Way From Home (2007), and Future Past (2010).

For me, Future Past, is the strongest of the albums and it really stuck with me throughout the year. The music style is a little less etherial and dark when compared to Love Spirals Downward, instead it is more acoustic with subtle downtempo electronica that creates a dreamy pop soundscape. Soft hypnotic melodies with dreamy vocals in every song always puts me in a good mellow mood. Ryan even pays homage to Pink Floyd's guitar intro from Shine on You Crazy Diamond with Meanwhile, Irreplaceable Time Flies. While I would love to hear a new Love Spirals Downward album, I don't expect it to happen, however I do look forward to hearing what Lovespirals releases next.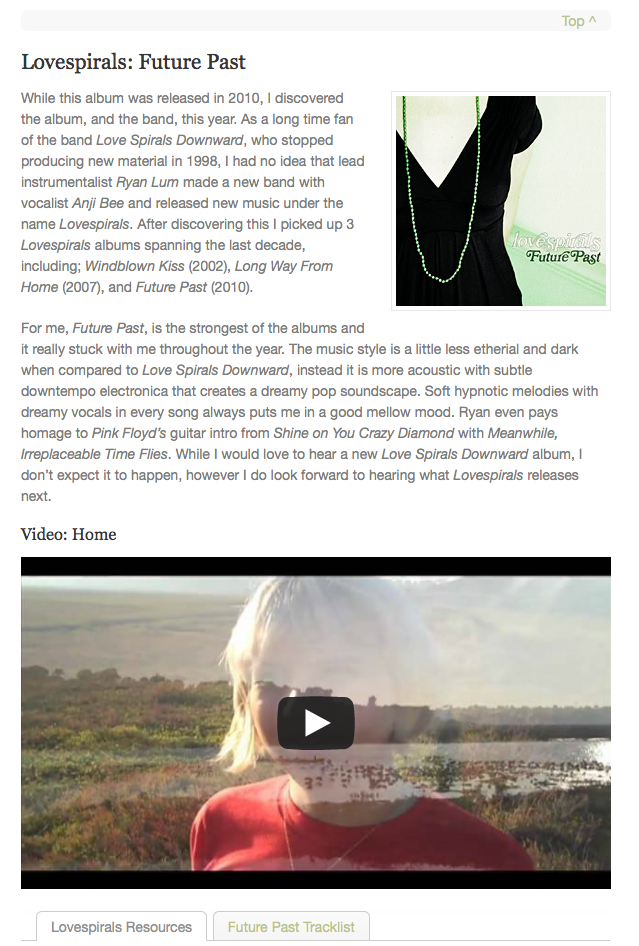 Ryan and Anji of Lovespirals have a ton of news to share with you after 5 months of podfading. Now if you're following the band on Facebook and Twitter, you may be somewhat aware of what's been going on with the duo recently, but nothing beats actually hearing the stories told to you by Lovespirals themselves. From looking after their beloved cat, Monster, following his recent stroke, to upgrading the studio computer and its effect plug-ins, while still writing and recording new songs and moving their webstore over to Bandcamp, you'll hear all the latest news. The show closes out with the Todd Ulrich "Fall" remix of "Walk Away" from the brand new expanded reissue of the hard-to-find 'Walk Away EP' out now at lovespirals.bandcamp.com. Stay tuned for purchase details on the upcoming 3345 Music release of "Put Some Music On" by Anji Bee, co-produced by Ryan Lum, and remixed by The Grooveblaster and Intensity of Sound soon!
Audio clip: Adobe Flash Player (version 9 or above) is required to play this audio clip. Download the latest version here. You also need to have JavaScript enabled in your browser.

Download Chillin' with Lovespirals #84 (mp3)
Show Links & Sponsors:
Connect with Lovespirals: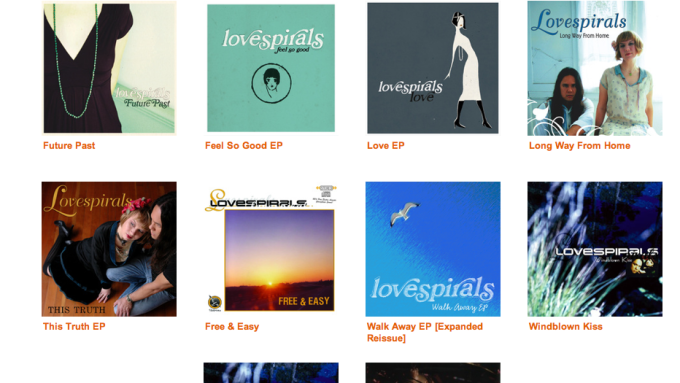 Lovespirals are now using Bandcamp as their official webstore and to kick off the big launch, they are offering 25% off everything in the store through the end of the year! Simply enter discount code "HOLIDAY" in the checkout dialog after you've made your selection and you'll see the discount applied.
All four of Lovespirals' full-length albums (Windblown Kiss, Free & Easy, Long Way From Home and Future Past) are available for sale both in CD and digital format, and come with various bonuses. The digital downloads contain 3 bonus tracks each; early demos, live recordings, cover songs, or previously unreleased tracks. Downloads also include fun stuff like lyric sheets, hi-res artwork, band photos, or music videos. All CD orders come with a free digital download including these extras, plus Lovespirals will personally autograph your CD cover. And best of all, the band have put together a very special 4-album gift pack which includes a free CD copy of the 2011 compilation, The Chillcast with Anji Bee; 5 Years of Chillin' featuring the brand new Lovespirals' song, "Try To Forget," and the brand new single by Anji Bee, produced by Ryan Lum, called "Put Some Music On." Get all 4 albums on CD, plus the comp, all bonus tracks, digital download items, PLUS an original promo postcard, poster, and band glossy (while supplies last) for just $40 + shipping — minus a 25% discount if you act before December 31, 2011!
Lovespirals' Bandcamp store also carries all 6 of the band's digital-only EPs, including a brand new release of their impossible-to-find Walk Away EP with additional tracks that have never before been released!  So what are you waiting for? Go check it all out at lovespirals.bandcamp.com – and pick up some independent music for your friends and family this holiday season.