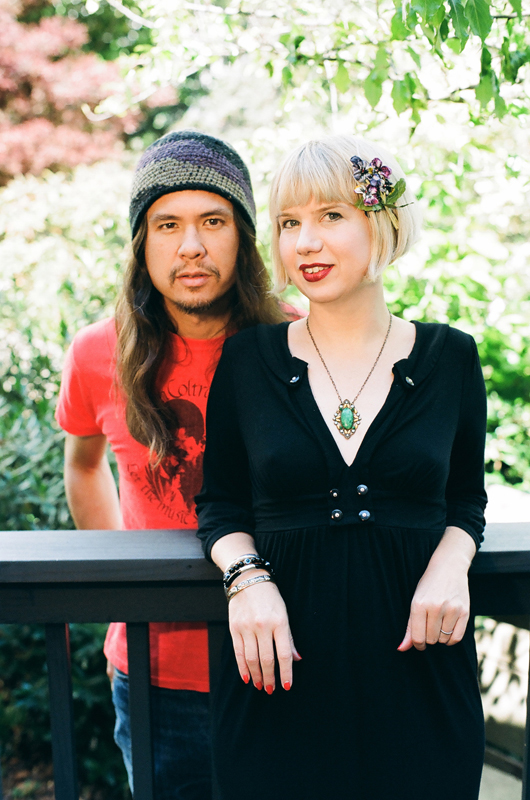 2008 marked the 10 year anniversary of the creative union of Ryan Lum and Anji Bee — known to the world collectively as Lovespirals. Their musical journey began as Lum was promoting his 4th and final studio album as Love Spirals Downwards in 1998. Bee, an aspiring vocalist and college radio DJ, assisted Lum in those promotions and offered her vocal services for a new musical project he had in mind.
The new duo began tentatively, building up momentum slowly over several years with dance club acetates, digital downloads, and compilation appearances released under both the old band name of Love Spirals Downwards, and the shortened moniker, Lovespirals – taken from the band's domain name, lovespirals.com.
By June 2002, the band had officially embraced the name Lovespirals with the release of their debut CD, Windblown Kiss, on Projekt Records – whom Lum had been signed to since the band's inception in 1992. The album's blend of Dream Pop, Jazz, Folk, and Blues surprised old and new fans alike — but they were intrigued. It had been claimed that with his 1998 album, Flux, that Lum invented "Gothic Trip Hop." Had he now invented "Gothic Jazz"?
Lovespirals' 2005 followup, Free and Easy, released on their own Chillcuts label, brushed aside Gothic labeling with it's soulful, jazzy mix of Downtempo, Deep House, and Pop. Several tracks were licensed for TV and cable programs including 'Oprah,' 'Martha', 'What Perez Sez,' 'Mind of Mencia,' 'Gastineau Girls,' and many other shows on stations including MTV, VH1, E!, and Logo. This album also marked the band's embrace of the new podcast medium, both in promoting through music podcasts and in creating their own band podcast, Chillin' with Lovespirals.
The band's 3rd album, Long Way From Home,  co-released in 2007 by Chillcuts and reapandsow, surprised fans once again with its return to a more organic, guitar-based sound. Armed with a new Martin acoustic guitar, an American made Fender Stratocaster, and a lap steel guitar, the musically inquisitive Lum now embraced Americana, a genre he'd only hinted at on songs like "Delta" in 1996 or "You Are the Gun" in 2002. And Bee let loose with soulful Blues chops the likes of which she'd merely flirted with on past releases.
Knowing that many fans admire the electronic side of Lovespirals, and being a fixture of the chillout genre with her weekly podcast, The Chillcast, Bee organized a remix EP of the bands' first single – a heart-tugging rendition of the classic Americana Spiritual, "Motherless Child," calling upon friends of the band and her podcast, including Karmacoda, Hungry Lucy,  MoShang, and Chris Caulder of Beauty's Confusion. All 6 remixes were deemed podsafe and received wide podcast and Internet radio airplay from shows including the award-winning Accident Hash, popular chillout podcast, Dave's Lounge, and the syndicated chillout program, Below Zero.
Following the Motherless Child EP, the band worked with Peace Love Productions on a remix competition for the albums' second single, "This Truth". The results were so stunning that their 2008 This Truth EP expanded into a 41 minute release including mixes by grand prize winner, Pomatic, and runner-up, Kambronn, as well as outstanding mixes by The Grooveblaster, hEADaCHE, Lthrboots, TT&Yosh, and donOesterby, plus a special remix by fellow Projekt artist, SoulWhirlingSomewhere. From sultry downtempo to upbeat trance, each mix puts a different twist on Bee's heartfelt, soulful vocals and Lum's bluesy electric guitar.
One PLP competition remix caught the ear of UK dance label, Loverush Digital, who leaped to sign the track before the contest was even over. In early 2009, Loverush Digital released an 8 song remix package under the collaborative moniker, Damien.S VS Lovespirals, featuring additional mixes by Avatar One, Juno Synclair and Craig Bailey, Thomas Oldani, and Adam Fielding. With radio and club support from Armin Van Buuren, Denny Dowd, The PH Factor and others, This Truth ft Anji Bee raced up the charts, hitting #2 in World Trance, #4 in World House and #10 in World Commercial on the DMC, as well as making the #8 spot on Music Week's Upfront Club Chart.
January 2010 brought the long-awaited 4th full-length album for Lovespirals. Enigmatically entitled, Future Past, this 11-track collection melds poppy vocal downtempo and moody spacerock, with additional twists and turns, including a brief nod to the duo's drum 'n' bass origins. 2010 also heralded the band's first-ever music video, for the song "Home". Filmed by the band and edited by Bee, this nature-filled retro-inspired video brings to life the song's lyrics with the feeling of a "home video." In July, Lovespirals released the Love EP, featuring 7 diverse remixes of the vocal drum 'n' bass song, "Love," produced by Chill Factor-5, 7 Day Visa, Divasonic, Soul Whirling Somewhere, Xurba and Falling You.
Lovespirals' decade long journey has been taken many twists and turns thus far, and only time can tell what path they'll take from here, but rest assured, the trip will be one smooth ride…
no images were found