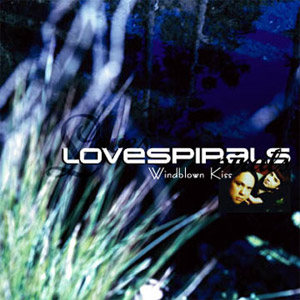 Lovespirals' lush, sensual songwriting embraces numerous genres on the band's first full length album, fusing Dream Pop with slow burning Blues, Country tinged Folk, Loungey Jazz and touches of World Music. Windblown Kiss blissfully intermingles Ryan Lum's dreamy acoustic and electric guitar melodies with lovely multi-languaged vocal harmonies by the earthy-yet-ethereal Anji Bee. Adding additional folk and jazz elements are special guests Sean Bowley (of Projekt Records' Eden) on guitar & vocals, and Doron Orenstein (of Subliminal Records' Monkey Bars) on saxophone.
Just when listeners think they know what's coming next, Lovespirals throws another curveball, from the Pink Floyd-esque guitar and saxophone blues of the opening track, "Oh So Long," to the Lum quintessential, Spanish language"Dejame," to the island infused, Santana-esque "Our Nights", and on through to the classic mid-century Lounge torch song closer, "I Can't See You," — not to mention two gritty Western-tinged duets with Tim Buckley-esque vocals by Bowley — Windblown Kiss truly blends the bands various musical influences into an unexpectedly heady concoction.
Different to be sure from Lovespirals' fare past (such as their atmospheric Drum 'n' Bass EP, Ecstatic) or from Lovespirals fare to follow, this release strips down the band's electronic elements and builds up the song structures using organic sounds which hearken back to Lum's earlier Love Spirals Downwards material, but with that smooth, sensual Lovespirals touch. Romantic, spiritual, and utterly heartfelt, Windblown Kiss envelopes one in a soothing dream-drenched world, full of nostalgia and beauty.
"Ryan Lum is a master of guitar, his techniques fresh and pleasant, and the sensual vocals of Anji Bee perfectly reflect the high quality of the musical compositions. Windblown Kiss is a magical listening experience, filled with sensitivity and beautiful soft jazz sounds."
– Lee Prosser, Jazz Review
Tracklisting:
Oh So Long (4:55)
Dejame (4:07)
He Calls Me (5:23)
Windblown Kiss (3:30)
Our Nights (3:43)
You Girl (3:37)
How the Thieves Ride [w/Sean Bowley] (4:30)
You are the Gun [w/Sean Bowley](4:21)
Swollen Sea (2:57)
I Can't See You/Old Kazoo Blues (9:54)
More
no images were found