25% Off All Lovespirals' Music This Holiday!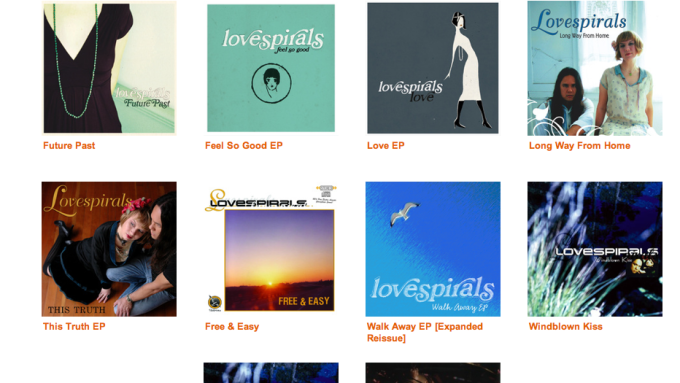 Lovespirals are now using Bandcamp as their official webstore and to kick off the big launch, they are offering 25% off everything in the store through the end of the year! Simply enter discount code "HOLIDAY" in the checkout dialog after you've made your selection and you'll see the discount applied.
All four of Lovespirals' full-length albums (Windblown Kiss, Free & Easy, Long Way From Home and Future Past) are available for sale both in CD and digital format, and come with various bonuses. The digital downloads contain 3 bonus tracks each; early demos, live recordings, cover songs, or previously unreleased tracks. Downloads also include fun stuff like lyric sheets, hi-res artwork, band photos, or music videos. All CD orders come with a free digital download including these extras, plus Lovespirals will personally autograph your CD cover. And best of all, the band have put together a very special 4-album gift pack which includes a free CD copy of the 2011 compilation, The Chillcast with Anji Bee; 5 Years of Chillin' featuring the brand new Lovespirals' song, "Try To Forget," and the brand new single by Anji Bee, produced by Ryan Lum, called "Put Some Music On." Get all 4 albums on CD, plus the comp, all bonus tracks, digital download items, PLUS an original promo postcard, poster, and band glossy (while supplies last) for just $40 + shipping — minus a 25% discount if you act before December 31, 2011!
Lovespirals' Bandcamp store also carries all 6 of the band's digital-only EPs, including a brand new release of their impossible-to-find Walk Away EP with additional tracks that have never before been released!  So what are you waiting for? Go check it all out at lovespirals.bandcamp.com – and pick up some independent music for your friends and family this holiday season.