Lovespirals CD Release Party Concert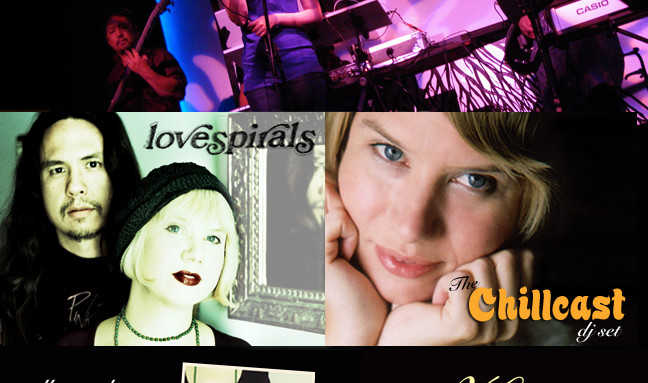 To celebrate the release of Lovespirals' new album, Future Past, San Francisco electronica act, Karmacoda, are hosting a very cool Happy Hour event at Harlot. Featuring a Chillcast DJ set, Lovespirals meet & greet and short acoustic set, plus a full Karmacoda performance, this is one party you won't want to miss! Ryan and Anji will also be on hand to autograph eco-friendly digipacs of Future Past (and their previous 3 albums, as well.) This will be the first time Lovespirals have performed live in San Fran, and their first public performance since 2006, not counting their late-2007 virtual concert in Second Life. This is a very special night and we hope you'll be there to share it with us! Be sure to arrive early as this event starts promptly at 7pm and ends at 10pm. You can RSVP on our Facebook Event Page.
Please spread the word on Twitter, Facebook, and your favorite social media sites. Podcasters & DJs can download a 30 sec audio ad for the show from Lovespirals' Music Alley page or SoundCloud.
Lovespirals & Karmacoda Show Promo (30 sec) by anjibee
FEBRUARY 26th, 2010
7 pm to 10 pm No Cover, 21+
Harlot
46 Minna Street
San Francisco, CA 94118
415.777.1077
www.harlotsf.com

Once in a Blue Moon – Live 2006 from Lovespirals on Vimeo.
Artwork Credits: