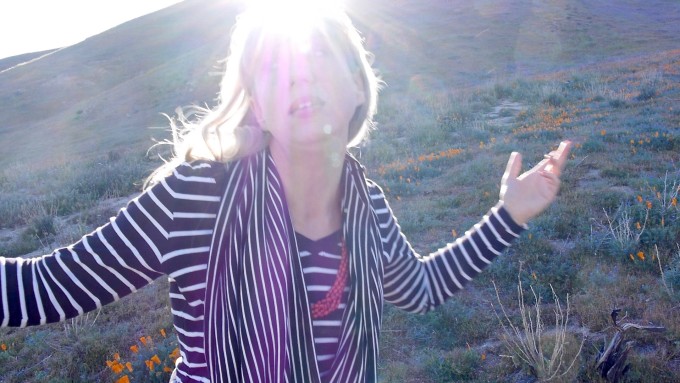 Los Angeles born Anji Bee has spent the better part of her life immersed in music. Her earliest memory is hearing the Beatles' White Album. From preschool on, she performed in school recitals singing, dancing, and acting. Competing for Anji's attention, however, was her love of fine arts, leading her to enroll at the prestigious Otis Art Institute of Parsons School of Design. Still, like many good rock 'n' rollers, Anji soon dropped out of art school to focus in on music.
Combining her myriad interests, Anji founded, produced, and distributed a series of 'zines based on her local Southern California music scene, reporting from the frontline of the burgeoning Straight Edge and Emo movements, the Industrial, Deathrock and Gothic scene, the Riot Grrl movement, and every point in-between. She also put in a 3-year stint with college radio, hosting shows and working in station management — including a run as Music Director and head of the program guide at KUCI 88.9 fm in Irvine. Anji has interviewed and reviewed many fellow musicians both in print and on the radio.
Continuing her interest in radio, Anji has maintained a streaming internet radio station on Live365 since their inception, beginning with a show called The Lovely Ladies of Electronica, which later expanded into Chillcuts. After the advent of podcasting, Anji naturally switched formats with the launch of The Chillcast with Anji Bee. This popular music podcast just celebrated its 10th anniversary in 2015. The Chillcast was part of Adam Curry's PodShow lineup on Sirius Stars 102 and has been nominated by the People's Choice Podcast Awards as "Best Podsafe Music Podcast" for several times. Anji was also a co-hostess of the People's Choice Podcast Award winning ShowGirls, along with Karla and Karen from Rumor Girls, Cali Lewis from Geekbrief.tv, Share Ross from Rock n Roll TV, Soccer Girl from Soccer Girl Incorporated, and KFC from Podchick.
Anji has contributed her unique and sultry vocals to a number of bands over the years, including collaborations with the CC Asia Band (aka CABACA), Chandeen, The Grooveblaster, Moosefrog, Chukimai (as Plastic Chair), Bitstream Dream, and Machineries of Heaven (for a track on EA Game's Need for Speed: Hot Pursuit 2). Still, joining forces with Ryan Lum as Lovespirals remains her most rewarding experience to date.
no images were found