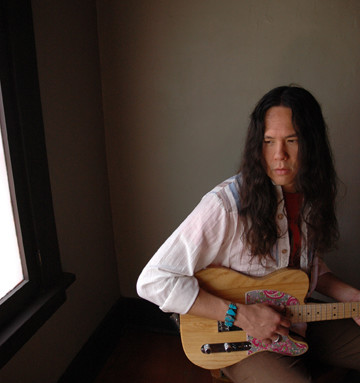 Southern California native, Ryan Lum, has been writing music since he first convinced his parents to buy him a guitar at the tender age of 9. While he did take guitar lessons early on, Ryan is primarily a self-taught musician, learning bass, keyboard, percussion, and programming skills out of necessity and a desire to compose his own songs.
By the time he began his first real band, Ryan had already recorded several hours' worth of material, most of it instrumental. Girlfriend-turned-vocalist, Suzanne Perry, worked with Ryan to complete a 3-song demo, and Love Spirals Downwards were born. Within months, the newly formed duo were signed to fledgling independent label, Projekt Records. In 1992, they released their first album, Idylls, which was an instant underground success. This was followed up by 3 more 10,000+ selling albums, spaced at 2-year intervals, and concluded with the career retrospective, Temporal: A Collection of Music Past & Present, in January of 2000.
By the end of LSD's career, Ryan's focus had shifted from recording and live performance to a more DJ-oriented career. Between 1998 and 2000, he spun sets of atmospheric and jazzy drum 'n' bass at Los Angeles and San Francisco clubs such as the infamous La Belle Epoque (numerous times), Spaceland, and the Virgin Megastore, as well as on-air and online for music programs including the legendary Riders of the Plastic Groove, Space Disco for Fish Tacos, and Dinner with a DJ at the Love Cat House. Eventually though, Ryan's love affair with vinyl waned, and his original passion for guitar based composition returned, sparked by new creative energy brought to his band by Anji Bee. In record time, Ryan picked up the rudiments of Jazz and Blues guitar, sparking a whole new chain of musical thought that he's still pursuing to this day.
Technology has always played a major role in Ryan's creative process, as each album has been a direct product of the means at his disposal, from the more primitive drum machines and 8-track tape recorders of the early 90's to the advancements of digital gear and recording software of today. Ryan has cited a number of musical influences over the years, including the Grateful Dead, Pink Floyd, Cocteau Twins, Miles Davis, and LTJ Bukem.
Ryan has been interviewed and featured by many popular music magazines over the years, including Keyboard, B-Sides, and Acoustic Guitar. A fairly comprehensive archive of print interviews is included at lovespiralsdownwards.com, and a great collection of quotes is availalbe on wikiquote.com.
no images were found