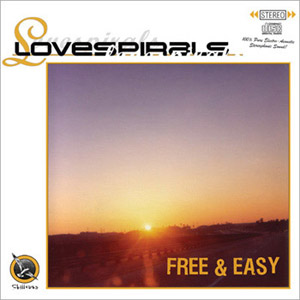 Lovespirals' 2005 sophomore release, Free & Easy, fuses Lum and Bee's myriad musical interests into a satisfyingly smooth sound the band refer to as "Electro-Acoustic Pop." While Windblown Kiss cleverly disguised Lovespirals' digital recording techniques with its focus on organic sounds and more traditional songwriting styles, Free & Easy embraces the duo's electronic origins, offering a balanced blend of elements from their earlier dance-oriented material as well as their Dream Pop offerings.
Every track on Free & Easy has its own unique feel; the title track and album opener, "Free and Easy", is laid back Morcheeba-esque Downtempo flavored with old-school R&B stylings, including melodious Rhodes piano and wah guitar. "Hand in Hand" takes an earlier Jazz-Step single, slows it down to a relaxed Liquid Funk pace, then builds it up with heartbreakingly sweet vocal harmonies, a light, jazzy mix of acoustic and electric guitars, and a smattering of saxophone by special guest musician, Doron Orenstein. "Deep in my Soul," the funkiest of the bunch, is an upbeat Deep House track featuring soulful vocals and gritty wah work, ending on a spiritual note with soaring Hammond organ chords. The album takes another unexpected turn with, "Habitual", whose sparse arrangement and hushed tone recalls some of the late 60's, early 70's music that inspires the band. Album closer, "Sandcastles", further amplifies this retro rock influence in the form of an extended guitar jam breakdown and dramatic Gospel-style closing.
Throughout this 43-minute collection of electro-acoustic Downtempo, Deep House, and jazzy-yet-rock-infused Chill Out, Lovespirals traverse many genres while maintaining a recognizably dreamy, sensual vibe courtesy of the smooth, soulful guitar and Rhodes piano of Ryan Lum, enhanced by the seductive vocals and romantic lyrics of Anji Bee.
"Smooth grooves conjure comparisons to Everything But the Girl. Combining jazzy torch-song vocal stylings with modern trip-hop sounds and rhythms, Lovespirals craft an infectious and exotic down-tempo sound that you might hear playing in an upscale New York club or Parisian underground lounge." – Editor's Pick, CNET: Music Download
Tracklisting:
Free & Easy (5:10)
Hand in Hand (4:40)
Deep in my Soul (5:03)
Walk Away (5:34)
Habitual (5:49)
Trouble (5:06)
Abide (2:58)
Love Survives (4:54)
Sandcastles (8:25)
no images were found