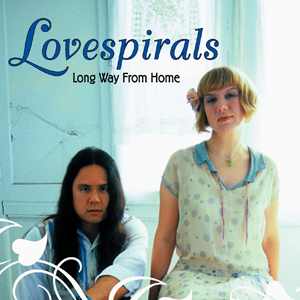 Lovespirals have truly hit their stride on this third album, Long Way From Home. Melding the dreamy folk and rock of their 2002 debut, Windblown Kiss, with the soulful jazz and blues of 2005 follow-up Free & Easy, the duo seamlessly blend prior influences with new sounds and styles. "Sultry chanteuse", Anji Bee, spins seductive tales of beautiful sadness and spiritual longing set to band founder, Ryan Lum's masterfully melancholic music.
Multi-award winning music podcaster, C.C. Chapman, has said Long Way From Home is Lovespirals best work to date, and the band agree. In fact, Lum believes this is his finest work, bar none. Long time fans will be pleased to hear the duo return to their dream pop roots, as well as their return to vocal and guitar based songwriting. Bluesy electric guitar abounds, with touches of wistful slide guitar, tinkling piano, and haunting harmonica to evoke a lush, organic, Americana feel. Bee's vocal harmonies soar confidently alongside Lum's guitar with that trademark blend of childlike innocence and mature sensuality that has endeared her to listeners new and old.
Long Way From Home was released in late 2007 on the band's own Chillcuts label, with digital distribution by reapandsow, inc, who also released the Motherless Child EP that same year.
"It's not an understatement to call Long Way from Home the duo's most accomplished work up to date; as enjoyable as their previous explorations of laidback electronica and jazz fusion have been, this album captures Lum and Bee's warm musical chemistry in a way that previous releases only hinted at."
– Matthew Johnson, Re:Gen Magazine
Tracklisting:
Caught in the Groove (4:45)
Empty Universe (3:11)
Treading the Water (4:27)
Once in a Blue Moon (3:57)
This Truth (3:44)
Motherless Child (2:37)
Sundrenched (3:26)
Nocturnal Daze (3:59)
Lovelight (4:34)
Lazy Love Days (5:10)
More:
no images were found